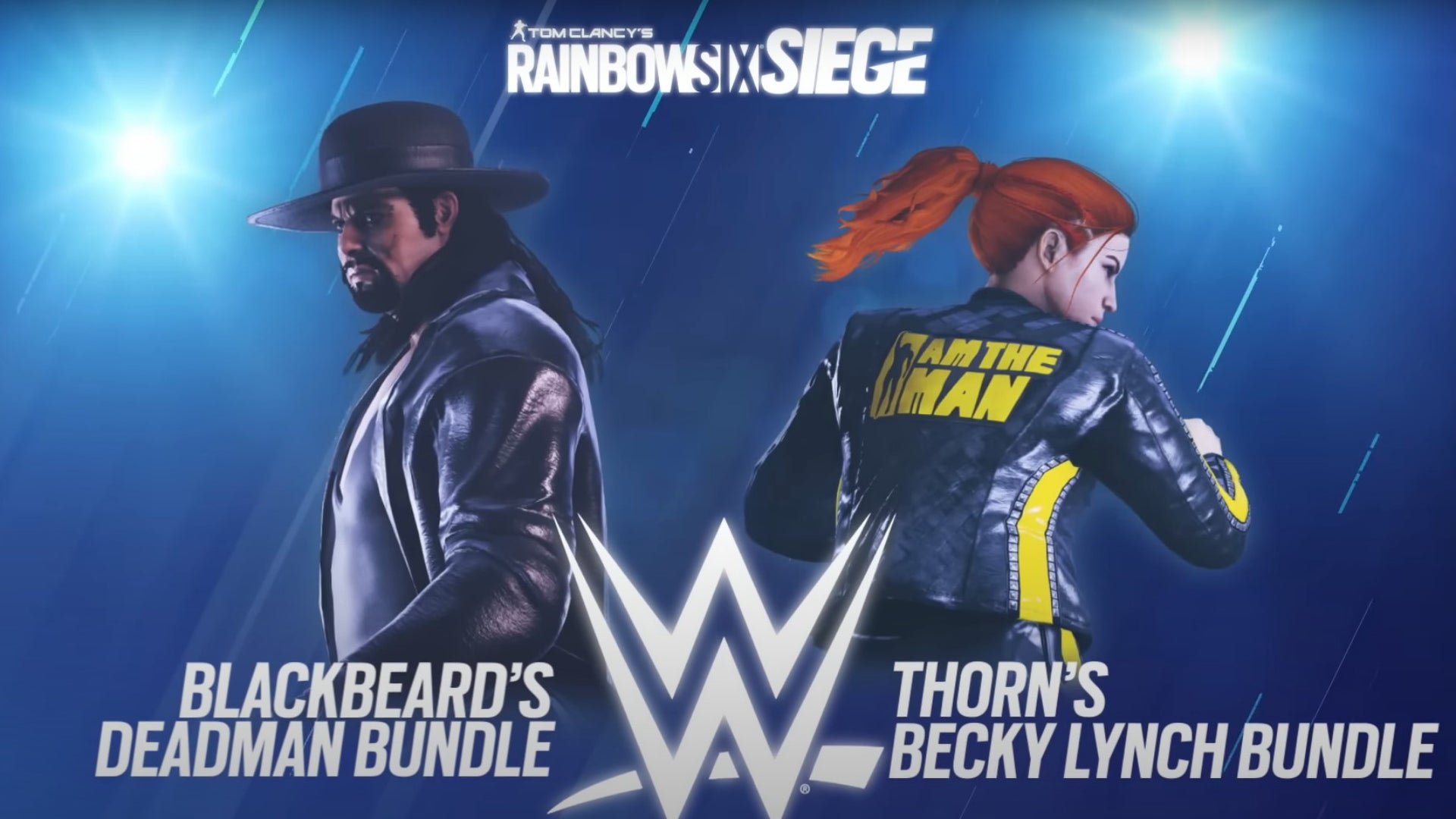 I used to follow WWE as a young child, up until my mum's partner at the time told me that it was all fake, and ruined the illusion for a smaller me entirely. Similarly, I've dabbled with Rainbow Six Siege here and there, always to put it down and have my cursor hover over Valorant instead.
Catch the trailer for Rainbow Six Siege's new WWE-inspired Thorn and Blackbeard bundles here.
Anyway, worlds have collided, with WWE's Undertaker and Becky Lynch now available as cosmetic skins for Blackbeard and Thorn in Rainbow Six Siege. You heard that right; you can now skulk around your favourite tactical shooter as none other than the grim reaper himself, The Undertaker. Not only that, but for those among us who are fans of 'the man' Becky Lynch, you'll be able to play games out in her likeness, too.
The first bundle, Blackbeard's Deadman Bundle, features the Undertaker uniform, a championship charm, Operator portrait, headgear, the Moonlight Brawl background, and even a new skin for the MK17 CQB. It just so happens that this new skin is suitably named 'The Tombstone' too.
On the other hand, Thorn's Becky Lynch Bundle includes The Man uniform, a championship charm, Operator portrait, and headgear. You'll also get your hands on the I Am the Man background, and a UZK50GI skin named 'Dis-Arm-Her'.
The two exclusive WWE cosmetic bundles are available for purchase in Rainbow Six Siege right now, and can be accessed on all platforms. However, they will set you back 2160 Credits each, and of course, you can't purchase and spend that exact amount.
If you're looking to purchase both bundles, you'd need to pick up 4920 Credits for £30. It's a hefty price, but still better than the cost of Valorant cosmetics, so you do you.
What do you think of this unexpected crossover, and would you like to see more WWE legends in games like Rainbow Six Siege?